Monkey Monk Treeworker Ltd
Tree problems? Nelson's top-notch professional tree service is here for you! From removal to care, we've got the Kootenays covered. Call for a free estimate!
CONTACT US
Our Professional Tree Services
Tree Removal
A tree removal service is a great way to get rid of trees that have become too large, unhealthy, or have been damaged by storms.
We will assess the situation and decide if the tree can be safely removed without damaging property or power lines. We offer superior quality service with specialized equipment, years of experience and the latest safety protocols for any size tree or condition.
Customers benefit from having their trees professionally removed without having to do it themselves, which can be risky and dangerous without the proper training and experience. We also provide peace of mind knowing that an experienced professional is doing the job right and in compliance with all relevant regulations.
By employing a reputable tree removal service, customers can rest assured that their trees are being removed quickly, safely, and efficiently while minimizing disruption to their property.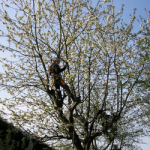 Tree Pruning
A healthy and well-trimmed tree is significantly less of a safety risk for your home, and it enables you to enjoy your yard without worries. Hiring a qualified arborist is not an inexpensive investment, but a residential property that has healthy and well-trimmed trees has greater appeal and can increase property value. Additionally, roof/chimney tree clearance work may be needed by some insurance companies.
We provide residential branch management, providing tree trimming, tree-felling, and safety pruning. We remove trees/branches that are dangerous by dismantling them while climbing, or cutting them from ground level. We can provide reports and assessments on trees involved in neighbour disputes, or if asked to by the courts.
By hiring a professional tree pruning service, you will benefit from having experts who have the knowledge and expertise to properly prune your trees, and save the time and hassle of doing it yourself. We can also fertilize your trees to help them through difficulties, and provide tips on how to make your trees happy!
We have access to the best quality tools and techniques that ensure your trees look their best and are safe from potential hazards.
Other services provided include:
Pruning  for health and safety
Pruning for ornamental and aesthetic purposes
Maintenance and restoration of hedges
Pruning fruit trees for production and restoration of older/unmaintained orchards
Tree risk assessment  and report writing 
FireSmartBC clearing of property for fire prevention
Pruning for house and building clearance
WHY CHOOSE US?
Get Things Done The Right Way
More information ... Click below to read brochures
Pure from nature
Monkey Monk Treeworker Eco-friendly/Sustainable Approach
Spending the last 15 years of my career working outside and exploring old-growth forests around the globe has made me a clear witness of climate change, especially having to study and work with trees that are far more sensitive to it than people can imagine.
So despite working in an industry using a lot of fossil fuel for trucks, chippers, chainsaws, etc., we still try to be as conservative as we can.
Here are a few steps we are taking :
Planning estimates to only one day of the week or if we are in the neighbourhood already, to avoid driving around wasting fuel and emissions.  We can also give you a pricing ballpark based on pictures sent in by email.
We use smaller vehicles/chippers or some adapted to the job, usually leaving less of a footprint on people's properties and using less fuel than bigger machines.
We recycle the chips that we produce on site, to give away to people with gardens, or to give away to local farms, and firewood is given away or kept by customers to keep people warm in winter, so no waste.
When pruning, we usually use battery-operated chainsaws;  no emissions, no loud noise.
When trees need to be removed, if it is a viable spot, we leave wildlife stems to keep bugs around (and thus birds). We also install bat houses on demand.
We give proper advice on which tree species to plant on your property for the future, as not every tree is the same
We use bio bar oil in our chainsaws, to avoid any unwanted oil deposits in water streams or over gardens.
We also provide counselling on how to keep your trees happy for the future, and which "tools" they will need to fight what is ahead of them (bugs, disease, fungi, changing weather patterns, like windstorms, property development, etc.).
Take A Peak Into Our Latest Image Gallery!
Gallery
MAKE AN APPOINTMENT
Monkey Monk Tree Worker Ltd.
Let us take care of the hard work so you don't have to – make an appointment for tree services today!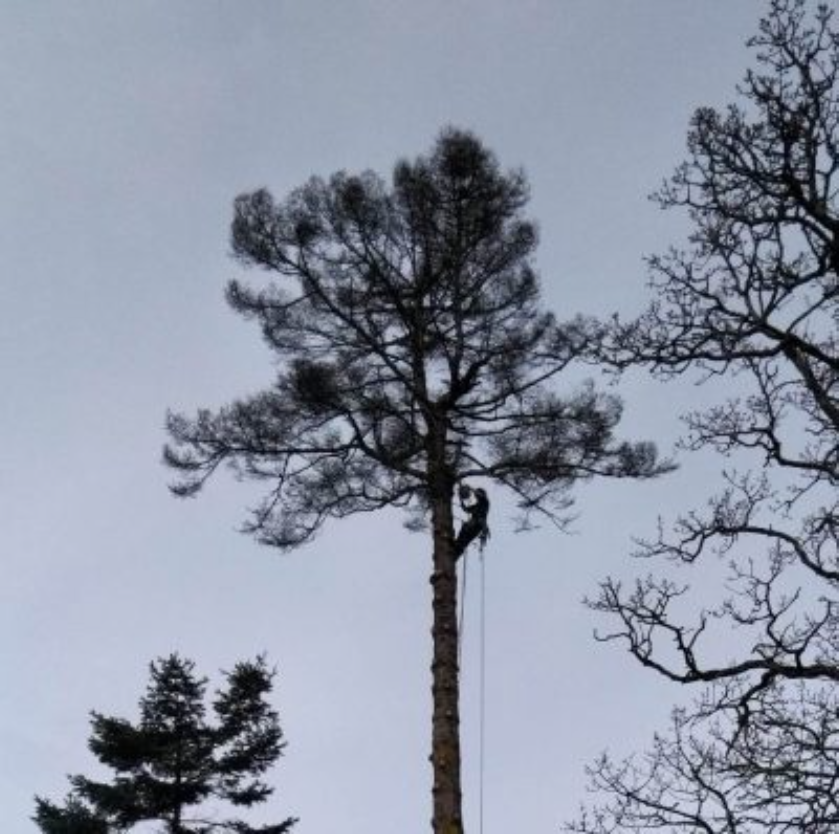 Share with your friends!
TESTIMONIALS
What People Say About Us
We have been hiring Yannick for several years now. We 1st hired Yannick to take down a very large dangerous Fir tree that was growing less than 12″ from our house as well other trees overhanging our house. He did a great professional job taking them down.
We continue to consult with Yannick & he provides sound advice and maintains our forested lot.
Mike Marston
I have a number of very large  cottonwood trees adjacent to my house that posed a significant risk to myself and the public. Yannick was thorough in his assessment and action plan. He arrived well prepared, arranged for additional resources, worked  hard, and was extremely careful that the heavy limbs, while being lowered, stayed clear of my house and fence. 
He is a bonafide professional. I would hire him again. 
Andrew McBurney, Nelson, B.C.
We are very happy with the work he did for us. Tree branches hanging over our house were removed by him with ease. Excellent job done at a fair price. Yes we would recommend him.
Jane Robertson , Castlegar, B.C.
This is a letter of recommendation for Monkey Monk Tree Pruner for your next pruning job. The team has served us for many years with excellent tree care and professionalism. The team at Monkey Monk has pruned very large trees in our yard which pose challenges for most tree pruners, but Monkey Monk was able to handle the complex work and recommend solutions to complete the job.
Their knowledge of trees is vast and can help you determine what kind of work should be completed to enhance the health of the trees. The team at monkey monk prioritize safety for all jobs and we have never had any safety concerns whatsoever in all the years he has serviced our trees.
Christopher Valentine
Call Us
Licensed and bonded to work around Castlegar, Nelson, Crescent Valley, Krestova, Slocan Park, Creston, Grand Forks, Kaslo, Salmo, Rossland, Silverton, Slocan, New Denver, and Trail.
CONTACT US NOW!
If you'd like to talk to our consulting team, contact us via the form and we'll get back to you shortly.